What is silicone?
History
The base material of silicone is silica or silicon oxide (SiO2), also known as quartz)which is the main component of sand that we can find easily on beaches.

The Romans considered it as a special form of ice, and many alchemists that appeared thereafter did not change the concept until the 16th century when Johann van Helmont made water-soluble glass by mixing and heating soda ash with silica and then treating it with acid to obtain white carbon.

From the 1930s to 1940, studies on silicone were conducted in the United States by J. F. Hyde (Corring Glass), W. I. Patnode, E. G. Rochow, W. F. Gilliam (General Electric (GE)) to produce heat-resistant polymers. In 1940, Rochow discovered a groundbreaking method known as the direct synthesis of organochlorosilanes, and developed a superior production method. As a result, industrialization of silicone began in major countries around the world, and a wide range of base research on silicon and organo-silicone compounds are conducted and developed by scientists from various fields.

Major silicone producers around the world use chlorosilane (monomer) and they are based in industrialized countries such as the United States, Japan, Germany, the United Kingdom, and France.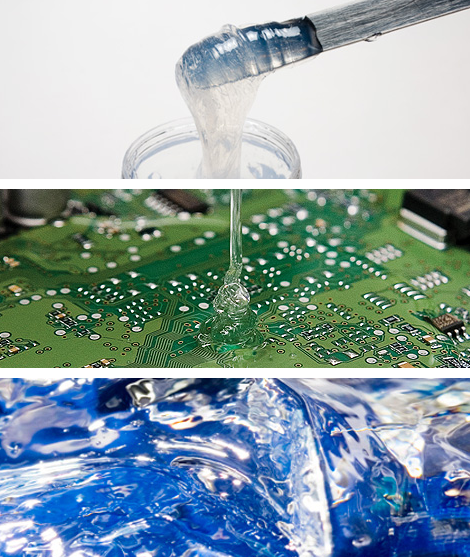 Definition
Silicon and silicone are quite different. Silicon is naturally occurring element known as Si which is applied in the field of semiconductor and as well as other fields.

Silicone is a synthetic polymer made of a chemical element such as a siloxane bond between silicon and oxygen. A condensation occurs when water is drained from silanol and this is similar to ketone where there are two alcohol groups in carbon. Therefore, it was called silico-Ketone, simply silicone.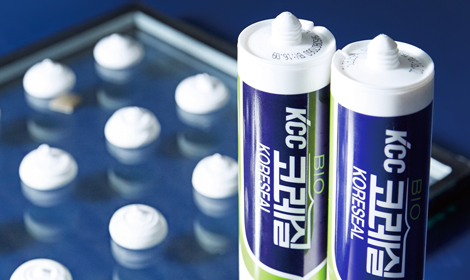 Grignard
Kipping's use of Grignard reagents contributed to the creation of a new polymer, silicone. However, as you can see below, the process is quite complex and difficult, which uses magnesium that is not included in the product, in the intermediate process. Furthermore, magnesium chloride is generated during the process, and it is necessary to reduce chlorine and magnesium through electrolysis to recover it. In addition, this process uses ether as a solvent, but as it is volatile and flammable, there is a great risk when used in large quantities. In order to obtain methyl silicon, a large amount of magnesium chloride and hydrochloric acid by-products must be treated which is an issue.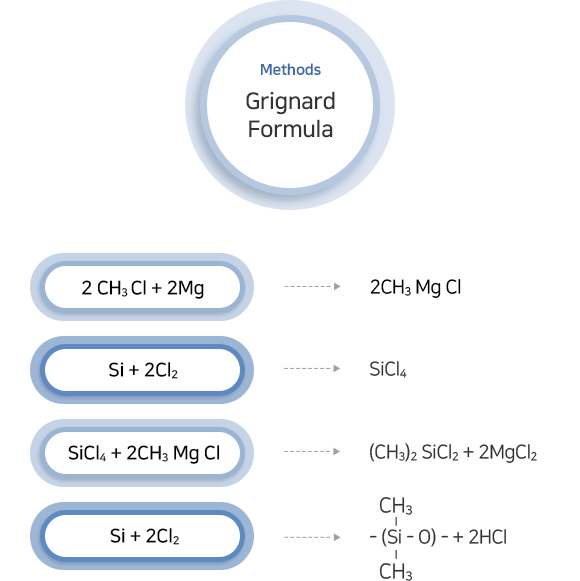 Direct Synthesis
The direct synthesis method that is widely used in the silicon industry today was developed by Rochow. The reaction between methyl chloride and silicon is characterized by its complexity. The main products include dimethyldichlorosilane (M2), methyltrichlorosilane (M1), trimethylchlorosilane (M3), tetrachlorosilane, and methyldichlorosilane. The key reaction formula is shown below.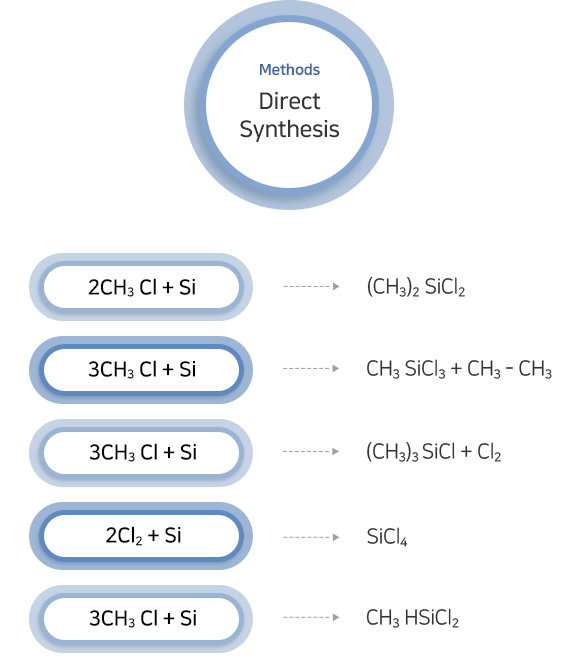 *Reference – The 3rd Generation Silicone Chemistry, Jeong Il-nam, Jayu Academy